This is an archived article and the information in the article may be outdated. Please look at the time stamp on the story to see when it was last updated.
Hundreds gathered Sunday afternoon at Cal State Long Beach for a vigil honoring the memory of a student who died while studying abroad in Paris.
Nohemi Gonzalez, 23, was one of 129 people who died Friday after the city came under attack.
Gonzalez was an "exceptional young woman who worked hard and contributed greatly to our community," Long Beach Mayor Robert Garcia said Sunday before the vigil.
It was Gonzalez's dream to visit the City of Light, and she was attending a semester at Strate College of Design in France when her stepfather said she was shot and killed while at a restaurant.
The shooting was especially troubling because Paris, like Los Angeles, believes in equality, freedom and justice, Garcia said.
"The people of Long Beach stand with Paris and with all the people around the world who share those values. In the coming days I know that our nation will stand with France," he stated.
A standing-room only crowd of community members joined Garcia, Cal State Long Beach faculty, and Gonzalez's friends and family at Sunday's vigil, held in the University Student Union building.
"We obviously need a bigger ballroom," said the school's president, Jane Close Conoley, standing at a podium in front of the flags of France, the United States and California. With the room filled to capacity, a large group of mourners stood outside the building and listened to an audio feed of the event.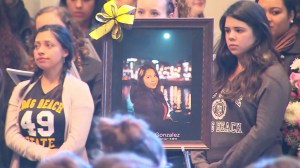 A choir from the university's Bob Cole Conservatory of Music opened the memorial with a rendition of "Sing Me to Heaven."
"Cal State Long Beach may be a large, urban university, located in a big city, but when we lose a member of our campus community it affects us all," said Dr. Carmen Taylor, the school's vice president of student affairs.
Nohemi Gonzalez's cousin, Ellie Gonzalez, was tearful as she delivered her remarks.
"This is still a really big shock. I don't believe it's real, that this happened," she said. "I'm going to miss her and I love her so much."
Professor Martin Herman, chair of the school's Department of Design, described his hope for his departed student's legacy.
"May Nohemi's voice, her bright spirit, her playfulness, her idealism, hopes, continue to inspire and illuminate our university family and all those that she touched," he said.
The indoor ceremony was followed by an outdoor vigil at the campus, where mourners held lighted candles in Gonzalez's honor.
A second vigil was also planned for Tuesday at 4:30 p.m. at Whittier High School, where Gonzalez graduated in 2010.
WHS Family grieves loss of 2010 alum Nohemi Gonzalez killed in Paris terrorist attack. Our prayers for her & family. pic.twitter.com/XEoMflvll0

— Whittier High School (@whittierhs) November 15, 2015
WHS hosting Candle-Light Vigil for passing of 2010 Alum Nohemi Gonzalez Tues 11/17 4:30pm Front Lawn Whittier High. pic.twitter.com/pA5MozK7Qk

— Whittier High School (@whittierhs) November 15, 2015