This is an archived article and the information in the article may be outdated. Please look at the time stamp on the story to see when it was last updated.
Legendary Los Angeles Dodgers broadcaster Vin Scully and former L.A. Lakers superstar Kareem Abdul-Jabbar were among the 21 recipients of the Presidential Medal of Freedom honored at a White House ceremony early Tuesday afternoon.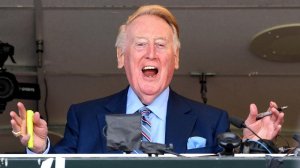 The White House announced last Wednesday the full list of honorees, which is packed with a number of notable people such as Bruce Springsteen, Bill Gates, Tom Hanks and Michael Jordan.
The Medal of Freedom is the highest civilian honor and is presented to individuals who have made significant contributions to "security or national interests of the United States, to world peace, or to cultural or other significant public or private endeavors."
"From scientists, philanthropists, and public servants to activists, athletes, and artists, these 21 individuals have helped push America forward, inspiring millions of people around the world along the way," President Barack Obama said in a statement last week.
The year's recipients include famous names from Hollywood as well as architects, scientists, musicians and athletes.
Among the honored are Hollywood heavyweights Robert De Niro, Robert Redford and Cicely Tyson.
Comedian and talk show host Ellen DeGeneres is also on the list. DeGeneres has been an outspoken supporter of Obama, including throwing a fundraiser for the president's re-election in 2012.
Springsteen was also a big supporter of Obama and Hillary Clinton. The night before the presidential election, Springsteen appeared at a rally alongside Obama and Clinton in Philadelphia.