This is an archived article and the information in the article may be outdated. Please look at the time stamp on the story to see when it was last updated.
Actor Scott Wilson, who starred in the AMC series "The Walking Dead," has died, the TV show's official Twitter account announced Saturday. He was 76.
Wilson played the role of Hershel Greene, a rural farmer, from the show's debut in 2010 through 2014, according to Variety. The series regular was killed off in the fourth season.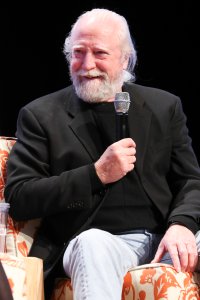 No details about Wilson's cause of death have been released.
His break-out roles came nearly 50 years ago, when he acted in the role of murder suspect Harvey Oberst in 1967's "In the Heat of the Night," which won Best Picture at the Academy Awards, Variety reported. That same year, he starred opposite Robert Blake in the film adaptation of Truman Capote's "In Cold Blood."
Wilson was born in Atlanta in on March 29, 1942. After high school, he turned down a basketball scholarship to study architecture at Georgia's Southern Tech University and hitchhiked to Los Angeles instead, according to IMDb.
There, he met an actor in a bar who took him along to an audition, his IMDb profile states. While he didn't get the part, he continued pursuing acting as a career — studying the craft while nabbing roles in local theater productions.
His film credits include "The Great Gatsby" (1974) and "The Ninth Configuration" (1980) among dozens of others and several TV roles, according to IMDb.
The site states Wilson resided in L.A. with his wife, Heavenly, an attorney, artist and writer.
Members of the "Walking Dead" cast and loved ones mourned the actor's death on Twitter.
In loving memory Scott Wilson, a friend and an extraordinary actor. You will be sorely missed. pic.twitter.com/3H5MkV4q6p

— Major Dodson (@Major_Dodson) October 7, 2018
Goodbye Scott Wilson you absolute legend x

— Tom Payne (@justanactor) October 7, 2018
Scott Wilson is gone. What a kind, generous man. Rest in peace, dear man. You left quite a mark so many people.#TWDFamily pic.twitter.com/lPpanT8Ofd

— Steve Coulter (@coulter28) October 7, 2018
The first time I met Scott Wilson, he gave me a big hug and said that this thing I had become apart of... was a family. He said I had a responsibility to take care of it. I have tried very hard to do that, sir. & I will continue. I promise. See you on the other side, my friend. pic.twitter.com/EhMm0dQbtx

— Khary Payton (@kharypayton) October 7, 2018