This is an archived article and the information in the article may be outdated. Please look at the time stamp on the story to see when it was last updated.
Rich's note: This free ticket offer has expired but I got in touch with Atom tickets and they have created code KTLA that will earn $3 off a customer's total order.
A new mobile movie ticket app called Atom Tickets is making it super easy to go paperless at the theater. To celebrate the launch of their new platform, they're giving users their first movie ticket totally free. Here is how to get it.
First, download the app. It's called Atom Tickets, and its available on iOS and Android.
Atom lets you buy movie tickets on your phone for AMC and Regal Cinemas in several cities right now including Los Angeles, San Diego and Nashville. A national rollout is happening later this summer.
Once you download the app you can log in with your Facebook account or sign up using your email address and a password.
If you use your Facebook account to log in you can then connect with your friends and see which movies they want to see. You can also coordinate group ticket buying without having to actually pay for your friends tickets.
Once you're signed up, browse for a movie you want to see and you'll notice that your first ticket is totally free! You can always buy additional tickets at their regular price.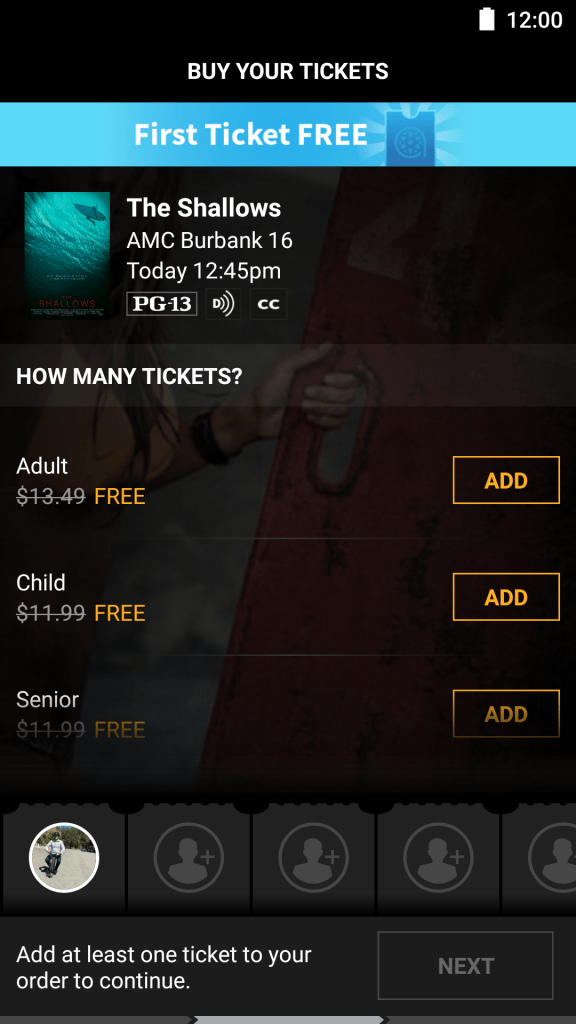 When you're ready to finalize your order, you'll have to give up some personal information to actually redeem your free ticket. Atom asks for your date of birth, gender, education, income, race, kids and kids' ages. If you don't fill out this information, you can't get your free ticket.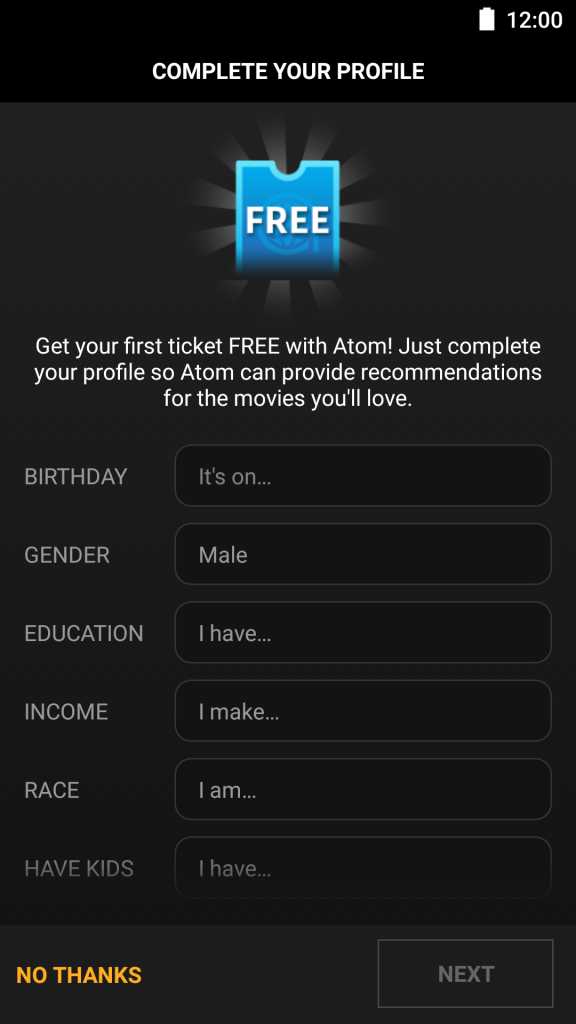 Why do they want this info? To sell you more stuff. The more marketers know about you, the better they can target offers to your situation. The information they're asking for isn't all that private, but you'll have to determine whether yours is worth a $15 movie ticket. Keep in mind you can choose to "rather not share" on the income and race questions.
That's all there is to it. Once you complete your order you can proceed to the movie theater and show your phone screen as your ticket. The Atom app also lets you pre-order concessions for easy pickup at the theater. I especially like this option since I bet they will offer up a lot of deals on snack combos. I also like the idea of having a bit of extra time to make up my mind about what to eat without a big line of people waiting behind me.
Enjoy the show!