This is an archived article and the information in the article may be outdated. Please look at the time stamp on the story to see when it was last updated.
A mixed-martial arts fighter who allegedly brutally beat his adult film star ex-girlfriend in Las Vegas was ordered returned to Nevada at a Ventura County court hearing Tuesday.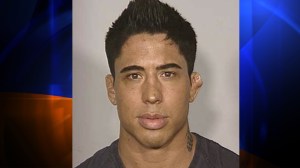 Jonathan "War Machine" Koppenhaver, 32, had been arrested in Simi Valley Friday in connection with the Aug. 8 assault of Christy Mack.
He was held on a felony charge of being a fugitive from justice, county jail records showed. In a Ventura court hearing that lasted only a few minutes, Koppenhaver signed his extradition papers. No cameras were allowed in the courtroom.
On Aug. 12, Las Vegas police announced a warrant for his arrest charging him with several counts of battery, including by strangulation, as well as assault with a deadly weapon, coercion by force and "open and gross lewdness."
The previous day, Mack had posted a statement on Twitter, along with graphic photos showing injuries she said were dealt to her by Koppenhaver.
Mack said Koppenhaver made her undress and shower in front of him and then assaulted her, Mack said. When he went into her kitchen, she feared he was getting a knife and ran out of the home and through her neighborhood, naked, to get help, she wrote.
She said she suffered 18 broken bones, a ruptured liver and other injuries. She could not walk, chew or see out of her left eye, she said. Their relationship had ended in May, Mack said.
An attorney for Koppenhaver said his client has struggled with the response to the allegations against him.
"The hardest thing for my client is seeing the responses from the media, the public. There's been a lot of statements on one side," said attorney Brandon Sua. "The media has done a good job of painting my client as a monster, but my client is not a monster. He is a good guy."
A statement would come "when the time is right," Sua said, adding that his client did not do "anything illegal."
Koppenhaver is from Simi Valley and Las Vegas police had suspected her returned to Southern California after the assault.
He was arrested by police with the help of the U.S. Marshals Service in a hotel room where investigators found pizza and a small amount of cash.
Witnesses to the arrest said police were called after Koppenhaver had a violent altercation with a woman at the hotel.