This is an archived article and the information in the article may be outdated. Please look at the time stamp on the story to see when it was last updated.
After an apparent mountain lion attack on a Riverside County man over the weekend, state wildlife officials were continuing to search Monday for the animal that may have been responsible.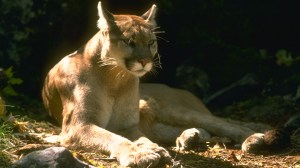 The confrontation took place late last week near a homeless encampment in Perris, where a homeless man received serious injuries consistent with cougar attack, authorities said.
"We're very confident that this was a full-grown lion — no way to know if it's male or female — that attacked this 50-year-old male," said Andrew Hughan, a spokesman for the California Department of Fish and Wildlife.
"He had his teeth into the skin of this man's neck. It must have been pretty horrible," Hughan said.
Such attacks are extremely rare. If confirmed, the attack would be the first in Southern California in more than a decade.
The attack took place off Highway 74, about 1 1/2 miles west of the 215 Freeway, Hughan said (map).
The injured victim had not immediately sought medical treatment, and it wasn't clear exactly when the attack occurred, Hughan said.
"He kept himself in his sleeping bag resting, or trying to heal himself, for what appears to be more than 24 hours," Hughan said. "Pretty grim."
Jerry Gower, a homeless man who knows the victim, said he saw "Raymond" staggering around and bleeding heavily from the face. "Raymond" told Gower to go away, the latter man said.
Eventually, the unidentified man walked bleeding down Highway 74 for more than a mile until someone stopped to help him and called 911, Hughan said.
The victim, who lived in the homeless encampment, had surgery after being hospitalized with lacerations, puncture wounds and bite marks at the base of the skull, according to a news release posted by Hughan on Sunday.
He was expected to survive but hospital officials said he would not be in a condition to be interviewed for several days, Hughan said.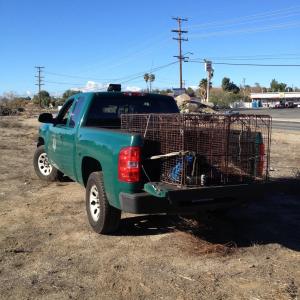 The most recent mountain lion attacks occurred in Southern California in 2004, when a mountain lion was killed by authorities after two mountain bikers were attacked at Whiting Ranch Regional Park in Orange County. One man was killed by the lion.
Since then, only three nonfatal attacks have occurred in the state, one in the Sequoia National Forest and two others in Northern California. The most recent attack — on a 63-year-old male who was bit and clawed in his sleeping bag — was in Nevada County in 2012.
In all, only 15 mountain lion attacks in California have been recorded since 1986, including three fatalities, according to state data. Four fatalities around the turn of the 20th century were attributed to mountain lion attacks, according to the state.
In Perris, wardens were continuing what had been an "aggressive" search for the mountain lion on Monday, but baited traps that had been set were removed, Hughan said. It was possible the search would continue into night, he said.
"At some point, the lion is gone and expending thousands and thousands of dollars of resources is not productive," he said.
Wardens had planned to make "all reasonable efforts to ensure the actual offending animal is destroyed" in the interest of public safety, Hughan wrote in the statement Sunday.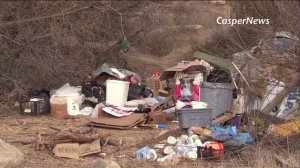 The department did not yet have the results of DNA tests on samples taken from the victim's wounds, Hughan said.
Drought conditions were not related to the attack, he said.
"Wrong place, wrong time. What brought that lion into his camp, we don't know," Hughan said. "There are a lot of other camps that have never been touched. Just a lot of bad luck, unfortunately."
Information about living with wildlife — and how to respond to a mountain lion encounter — was posted at the department's "Keep Me Wild" website.
KTLA's Chip Yost contributed to this report.