This is an archived article and the information in the article may be outdated. Please look at the time stamp on the story to see when it was last updated.
A rare, venomous sea snake found slithering on the sand in Newport Beach earlier this week was one of a growing number of the serpents apparently drawn far north of their usual habitat by the spread of warm ocean temperatures, a biologist said Thursday.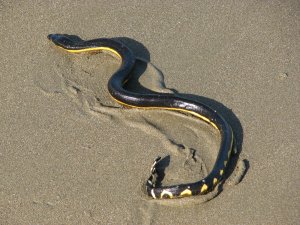 The yellow-bellied sea snake discovered near the 18th Street lifeguard tower on Monday was the third report of the species in Southern California since 2015 — and the fifth since 1972, said Greg Pauly, herpetological curator at the Natural History Museum of Los Angeles County.
"Oceans are warming and the species that respond to that change will be those that are the most mobile," Pauly said. "So the big question now is this: Are sea snakes swimming off the coast of Southern California the new normal?"
Sporting short sharp fangs capable of delivering extremely potent venom, the snake — named for its bright yellow underside and flattened yellow tail with black spots — is no joke.
Read the full story on LATimes.com.