This is an archived article and the information in the article may be outdated. Please look at the time stamp on the story to see when it was last updated.
Three people connected to San Bernardino gunman Syed Rizwan Farook, including his older brother, were arrested Thursday on suspicion of federal conspiracy, marriage fraud, and making false statements.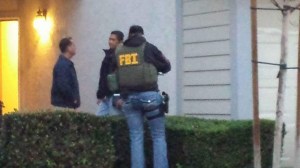 Syed Raheel Farook, the brother of Syed Rizwan Farook; his wife, Tatiana Farook; and her sister Mariya Chernykh were arrested and charged in a grand jury's five-county indictment related to an alleged sham marriage between Chernykh and Enrique Marquez Jr., who is awaiting trial on charges that he supplied guns used in the Dec. 2 attack at the Inland Regional Center, according to a Department of Justice news release.
They all pleaded not guilty in federal court in Riverside Thursday afternoon the Los Angeles Times reported.
Syed Raheel Farook's mother put up the money for bail for both her son and his wife. He was later seen leaving the courthouse with his attorney.
Chernykh's bond was set at $50,000, according to the Times, but due to immigration issues, she may remain in custody longer.
The three arrests were not directly related to last December's terror attack at the Inland Regional Center, the Times reported, citing an anonymous source.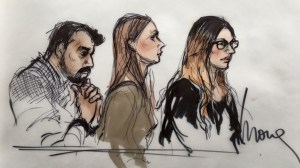 The Farooks and Chernykh are accused of conspiring to make false statements under oath "with respect to a material fact in an application, affidavit, and other document required by the immigration laws and regulations of the United States," the release stated.
If convicted, they each face a statutory maximum of five years in prison.
Chernykh faces additional charges, including fraud and misuse of visas, permits, and other documents; perjury; and making false statements to federal agents, according to the DOJ.
She could be sentenced to up to 25 years in federal prison if found guilty on all charges.
Her husband, Enrique Marquez, was charged with entering into a fraudulent marriage with Chernykh when he was indicted by a federal grand jury at the end of last year.
Marquez agreed to marry Chernykh, a Russian citizen, so she could obtain immigration benefits, investigators allege, according to the indictment. He is suspected of receiving money from Chernykh to wed her.
The couple then allegedly lied under oath when they signed immigration documents that stated they lived together, the release stated.
Syed Raheel Farook and Tatiana Farook are accused of participating in the conspiracy, including staging family photos of Marquez and Chernykh, establishing a joint checking account for the couple, and creating a back-dated lease to create the illusion that Marquez and Chernykh shared a residence with the Farooks.
The arrests were a result of the overall investigation into the Dec. 2, 2015, according to federal authorities.
"This is the latest step in the comprehensive investigation into the horrific attacks in San Bernardino last year that took the lives of 14 innocent Americans and deeply affected so many more," said U.S. Attorney Eileen M. Decker. "Today's arrests open a new phase in the process of bringing to justice all individuals who allegedly committed crimes that were uncovered during our exhaustive investigation."
The arrests were announced shortly after spokeswoman Laura Eimiller confirmed the FBI had executed multiple warrants in Corona and elsewhere in connection with mass shooting.
Two people were arrested at Syed Raheel Farook's home Thursday after the FBI conducted a search warrant at the house, according to the Times. Federal agents previously searched his Corona residence back in February.
The warrants were served nearly five months after Syed Rizwan Farook and Tashfeen Malik opened fire in the conference room of the Inland Regional Center, killing 14 of Farook's work colleagues from the San Bernardino County Department of Health.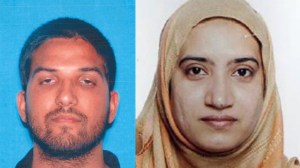 The couple used semiautomatic rifles in the attack, which also left nearly two dozen others wounded.
They were fatally shot later that day after leading police on a chase that ended in a gunbattle in a residential area about 2 miles away from where the initial attack took place.
Both U.S.-born Farook, 28, and Pakistan native Malik, 29, had expressed commitment to Islamic jihad and martyrdom in direct, private online messages in late 2013, months before Malik moved to the United States to live with Farook, FBI Director James Comey has previously said.
All three were due back in court on June 21.
KTLA's Feven Kiflegiorgis and the CNN Wire contributed to this story.