This is an archived article and the information in the article may be outdated. Please look at the time stamp on the story to see when it was last updated.
Authorities used a Taser to detain a man following a pursuit through the San Gabriel Valley that ended when the fleeing car burst into flames.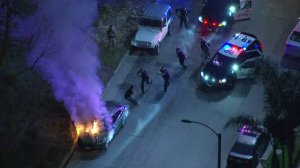 The pursuit of an alleged reckless DUI driver came to an end just before 10 p.m. near the Washington Boulevard exit of the 605 Freeway after the hood of the fleeing car burst into flames and the driver pulled over.
Aerial footage from Sky5 showed officers using a Taser to subdue the driver and take him into custody in the area of Washington Boulevard and the 605 Freeway in Pico Rivera.