This is an archived article and the information in the article may be outdated. Please look at the time stamp on the story to see when it was last updated.
A brush fire ignited near homes in Sylmar late Thursday, threatening homes and prompting evacuations, authorities said.hopef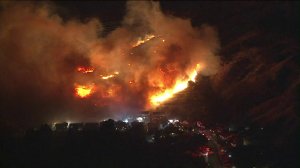 The Saddleridge Fire broke out shortly after 9 p.m. along the 210 Freeway, near Yarnell Street, according to the Los Angeles Fire Department. The flames consumed more than 4,600 acres by 3 a.m. Friday, burning uphill, fanned by heavy Santa Ana winds," fire officials said. Firefighters had yet to establish any containment lines. An "unknown number" of homes were potentially in the path of the fire, Los Angeles Fire Department Spokeswoman Margaret Stewart said. Several homes could be seen on fire in Granada Hills during the early morning hours Friday.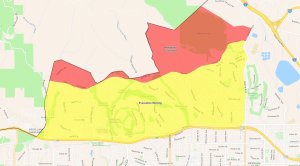 Mandatory evacuations were issued for the Oakridge Estates community just north of the 210 Freeway, fire officials said. Aerial footage from Sky5 showed big rigs parked at a nearby yard could be seen engulfed in flames. The fire began on the north side of the freeway, but quickly jumped the roadway and continued burning on the south side. The flames then jumped west across the 5 Freeway, igniting a 30-acre spot fire. Additional evacuations were ordered for neighborhoods of Granada Hills and Porter Ranch, north of Sesnon Boulevard, between Balboa Boulevard and the Ventura County line, according to the Los Angeles Police Department. About 1,900 homes were under evacuation orders, including the entire community of Porter Ranch, officials said. Residents south of Sesnon Boulevard, south to the 118 Freeway, were warned to be ready to evacuate promptly if the need arises. The fire sent heavy smoke onto the nearby 210 and 5 freeways, prompting authorities to shut down traffic in both directions near the fire, officials said. More than 450 firefighters worked the fire Thursday night, aided by eight helicopters, officials said. An evacuation center for people and small pets was set up at the Sylmar Recreation Center, 3109 Borden Ave., as well as at the Granada Hills Recreation Center, 16730 Chatsworth Street, Stewart said. Large animals were being accepted at the Hansen Dam Recreation Area, 11770 Foothill Blvd. in Lake View Terrace, and at the West Valley Animal Shelter, 20655 Plummer Street in Chatsworth. Los Angeles Department of Water and Power officials announced that the utility was shutting down power transmission in the area of the fire to assist in firefighting efforts.
Update #SaddleridgeFire #BrushFire; INC#1582; 3:10AM; Wb 210 Fy; https://t.co/KSKSpKcSfk; #Sylmar; Size of the fire is updated to upwards of 4,000 acres. Once daylight comes, a more accurate assessment can be performed. A number … https://t.co/FUItCILRzF

— LAFD (@LAFD) October 11, 2019
#SaddleRidgeFire ALL of #PorterRanch is now under Mandatory Evacuation Please check https://t.co/0kdujOUhIz for evacuation map and latest updates #LAFD

— LAFD (@LAFD) October 11, 2019
The #SaddleridgeFire fire is rapidly moving west towards the northern portions of Granada Hills, Porter Ranch and Chatsworth, in the vicinity of the 118 freeway. Be prepared and ready to evacuate if given the order.

— LAPD HQ (@LAPDHQ) October 11, 2019
The #SaddleridgeFire which started in Sylmar has now jumped the 5 freeway per @LAFD. Additional mandatory evacuation orders for the area of Balboa to Tampa north of Sesnon. The 210 freeway between the 5 & 118 has been shutdown per @CHPsouthern. Take this fire seriously! pic.twitter.com/bQT7imoQ9O

— LAPD HQ (@LAPDHQ) October 11, 2019
We have declared a citywide tactical alert in response to the #SaddleRidgeFire and are working with @LAFD to carry out any necessary evacuations. If you live in the area of the 210 freeway and Yarnell in Sylmar, we urge you to be prepared & follow all public safety instructions.

— LAPD HQ (@LAPDHQ) October 11, 2019
Our grid operators have shut off power flow along major transmission lines in vicinity of the #SaddleridgeFire in #Sylmar to assist firefighting ops. No outages as result of tx lines out. Power is being rerouted into @LACity using other paths away from affected area. NFD @LAFD

— LADWP (@LADWP) October 11, 2019
SIGALERT: NB I-5 JSO I-210 AND SB I-5 AT CALGROVE, ALL LANES CLOSED FOR UNKNOWN DURATION DUE TO BRUSH FIRE

— CHP PIO – LA County (@CHPsouthern) October 11, 2019
EB AND WB I-210 FROM I-5 TO I-118 CLOSED AND NB I-5'S TRUCK ROUTE CLOSED DUE TO BRUSH FIRE, UNKNOWN DURATION (SYLMAR AREA)

— CHP PIO – LA County (@CHPsouthern) October 11, 2019