This is an archived article and the information in the article may be outdated. Please look at the time stamp on the story to see when it was last updated.
Authorities must wait until conditions improve on the California coast before they can search for the bodies of three siblings believed dead after their family's SUV plunged down a cliff into the sea last week.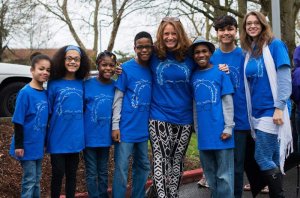 Strong currents, frigid water and rough waves have prevented Mendocino County Sheriff's divers and rescuers from looking for the missing Hart children, Lt. Shannon Barney said.
The children are Devonte Hart, 15, who was briefly famous for a powerful 2014 photograph of the teen tearfully hugging a police sergeant in Oregon at a protest amid unrest in Ferguson, Mo., and his sisters Hannah and Sierra Hart, 16 and 12, respectively.
Authorities said they believe the three were in the car with their siblings, Markis, 19, Jeremiah, 14, and Abigail, 14, and their parents, Jennifer and Sarah Hart, both 38, when their GMC Yukon dropped 100 feet onto the rocky Mendocino County shore off Highway 1 near Juan Creek.
Read the full story on LATimes.com.