This is an archived article and the information in the article may be outdated. Please look at the time stamp on the story to see when it was last updated.
A water main break Saturday afternoon caused flooding in a Bel-Air neighborhood, according to the Los Angeles Fire Department.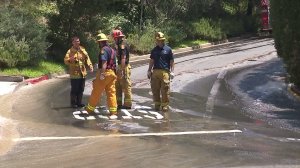 Firefighters responded about 12:20 p.m. to the 10900 block of Chalon Road when a homeowner reported low water pressure and flooding in their garage.
Firefighters discovered the water main break and an unknown amount of water had flooded the street and nearby homes, said Battalion Chief David Spence.
Firefighters were able to divert the water into four drains and the Department of Water and Power also responded.
Roads near the break were closed during the clean up. Crews remained at the scene at 6 p.m., and hoped to have the area fixed by midnight.
It is unknown how much water flowed from the 12-inch water break and how much damage it caused, Spence said. The cast-iron pipe is from 1940, a DWP official told KTLA.
No evacuations were issued during the incident.