This is an archived article and the information in the article may be outdated. Please look at the time stamp on the story to see when it was last updated.
SIMI VALLEY, Calif. (KTLA) — Drivers were warned to find alternate routes in Simi Valley on Wednesday, after a water main break caused a sinkhole at a busy intersection.
The break was reported just after 8 p.m. on Tuesday at Tierra Rejada Road and Madera Road.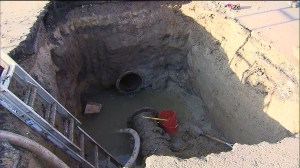 It involved an aging 16-inch pipe that was due for replacement, officials said.
The break and subsequent flooding created a sinkhole that was about 8 feet by 8 feet, crews at the scene said.
They were working around-the-clock to clean up and repair the damage.
Crews planned to put a temporary layer of asphalt over the area so they could re-open it Wednesday afternoon.
Madera Road remained partially open for north and south traffic, but drivers should expect delays, Simi Valley police said.
No traffic was being permitted west on Tierra Rejada Road.
Drivers were urged to use alternate routes along First Street, connecting with Royal Avenue to meet Madera Road.
Those headed to Moorpark should use the 118 Freeway, accessible by First Street, Sycamore Drive, Madera Road, Tapo Canyon Road or other alternatives.
A similar incident happened at the same intersection just under a year ago, in October 2012, residents said.