This is an archived article and the information in the article may be outdated. Please look at the time stamp on the story to see when it was last updated.
A six-inch water main burst Wednesday afternoon causing flooding in a Reseda neighborhood.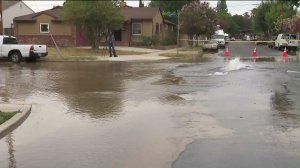 The water main break was reported about 5:20 p.m. in the area of Cohasset Street and Rhea Avenue, the Los Angeles Department of Water and Power reported.
Responding crews shut off the water and immediately began repairs.
Aerial images from Sky5 showed flooding, damage to street pavement in the neighborhood and nearly a foot of water coating the street.
No houses were damaged and no injuries were reported.
The intersection was closed and the water remained turned of as of 7 p.m.