This is an archived article and the information in the article may be outdated. Please look at the time stamp on the story to see when it was last updated.
As state officials announced the lowest-ever snowpack in the Sierra Nevada — the source of nearly a third of California's fresh water — Gov. Jerry Brown on Wednesday said mandatory conservation measures would go into effect for the first time in history.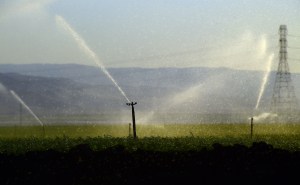 Among other actions, the governor's executive order will require urban areas to reduce water use by 25 percent. Brown announced the order as he stood at the Phillips snow course, near Sierra-at-Tahoe ski resort and about 90 miles east of Sacramento, on dry patch of ground that's normally covered in several feet of snow.
"The reality is the climate is getting warmer, the weather is getting more extreme and unpredictable, and we have to become more resilient, more efficient and more innovative and that's exactly what we're going to do," Brown said.
He spoke during the state's annual April 1 snow survey, which gives water officials a picture of the amount of water that will be available to the state at the end of the rainy season. Snowpack is traditionally at its peak on that date.
For the first time in 75 years, no snow at all was found at the Phillips snow course, according to the state Department of Water Resources. On average, about 5 1/2 feet of snow are found at that site on April 1.
Readings on Wednesday showed the snowpack was at 5 percent of normal, compared to previous readings on April 1 dating back to 1950.
That's the lowest of record, below the previous lows of 25 percent last year and in 1977.
California's drought is now "firmly rooted in its fourth consecutive year," the Department of Water Resources announced in a press release that stated, "Sierra Nevada snowpack is virtually gone."
"This is the new normal," Brown said.
In a conference call with reporters on Wednesday to discuss the state's historically low snowpack, California's director of snow surveys called the situation "dire."
"We're not only setting a new low, we're completely obliterating the previous record," said David Rizzardo, chief of snow surveys and water supply forecasting for the Department of Water Resources.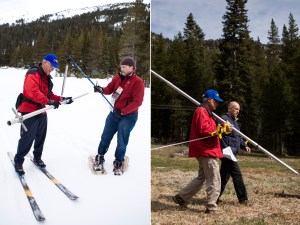 Brown's order follows action by the State Water Resources Control Board last month extending restrictions on outdoor water use and requiring local water agencies to impose new restrictions on urban irrigation.
Brown and legislative leaders on March 19 unveiled a $1 billion plan to pay for water-related projects and programs in areas where water supplies have dried up.
In announcing those measures, Brown had defended the water board's restrictions from criticism that they did not go far enough, saying he wanted to do more but that such efforts take time.
Less than two weeks later, on Wednesday he said the state would make water-use restrictions mandatory for the first time in history.
The executive order requires cities and towns to reduce water use by 25 percent below 2013 levels by Feb. 28, 2016, with usage reported to the state by water suppliers.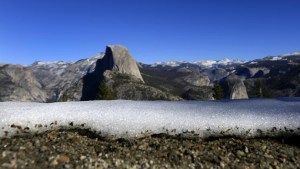 "This will be tightly monitored," said Mark Cowin, director of the California Department of Water Resources. "There will be repercussions, including potential fines."
The governor noted he had called for voluntary water reductions but had not seen compliance.
"I called for 20 percent voluntary and we're getting more like 9 percent. That's not enough," Brown said.
Under previous state actions, local agencies can fine property owners up to $500 a day for failure to implement conservation requirements. And the state water board can issue cease-and-desist orders against water agencies that fail to impose conservation measures. Local agencies that violate such orders can be subject to civil liabilities of up to $10,000 a day, according to the state's news release.
"We won't hesitate to use the full range of tools we have, because the situation is serious," said water board chair Felicia Marcus on an afternoon call with reporters.
There were no specific reductions mandated for agricultural uses, which account for some 80 percent of state water consumption. Officials said farmers were already being impacted by the longstanding water-rights system and were seeing dramatically reduced or eliminated supplies available to them from federal and state water supplies.
Other elements of the 31-point order include:
A statewide rebate program to help consumers replace old appliances with more efficient models;
water-use cuts at campuses, golf courses, cemeteries and other facilities with lawns or significant;
a prohibition on new residential developments using potable water for irrigation unless a drip system is used;

A file photo shows sprinkler spilling water on sidewalks. (Credit: KTLA)

a ban on watering of ornamental areas and medians using potable water;
a requirement that local water agencies report usage, conservation and enforcement efforts to the state;
requiring "conservation pricing" for local water agencies; and
the replacement of 50 million square feet — or about 1,150 acres — of lawns and turf with drought-tolerant landscapes.
The full text of the order is available here. More information is available at drought.ca.gov.
GOVERNOR BROWN DIRECTS FIRST EVER STATEWIDE MANDATORY WATER REDUCTIONS! #cadrought #saveourwater

— CA – DWR (@CA_DWR) April 1, 2015
More video;