This is an archived article and the information in the article may be outdated. Please look at the time stamp on the story to see when it was last updated.
Newport Beach lifeguards attempting to help a body-surfer who became distressed while trying to stay afloat among waves up to 25 feet near the Wedge (map) had to be rescued by a boat Wednesday morning.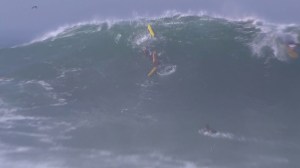 The entire rescue effort was viewed on live television while hundreds more watched from shore.
Four lifeguards swam to the man, who appeared to be tired and struggling around 9 a.m., video showed.
The waves were the largest seen in the past decade and pushed the group near a large rock structure that extended into the ocean.
After several minutes, the lifeguards and body-surfer appeared to be unable to reach the shore and were rescued by a boat.
North of the Wedge, another rescue effort saved two stranded swimmers around 7:45 a.m. who were likely swept out by a rip current, according to Newport Beach Fire Department officials.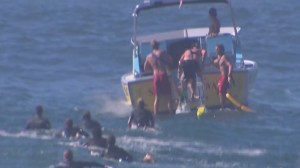 More rescue efforts were expected to be needed Wednesday, the peak of a four-day high surf advisory for Los Angeles, Ventura, Santa Barbara and Orange County beaches that was scheduled to end 6 p.m. Friday.
"The Wedge is world famous for its size and its danger, but really everywhere up and down the coast is going to be dangerous for the next couple days," fire department Capt. Mike Halphide said.
Over 100 people were rescued Tuesday by Los Angeles County Lifeguards, and 25 were rescued from the Wedge in a two-and-a-half hour period on the same day.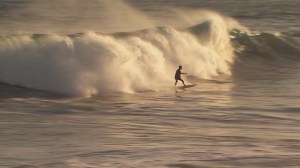 "We're really warning everyone coming down, whether you're a beginner or an expert, to really think twice and talk to a lifeguard before you go in because of the conditions will just be so hazardous," he said.
All swimmers were advised to stay out of the ocean, but if caught in a rip current, they were advised to swim parallel to the shore until free of the current then back to the beach and exit the water, according to the National Weather Service.
"In any other sport, you can sit down and take a rest," said lifeguard Skeeter Leeper of the Fire Department. "If you're in the ocean and you get injured or you get tired, there's no time for that. You're going to sink to the bottom."
The unusually large waves attracted several thousand spectators to the Wedge and caused limited parking and heavy traffic, according to Newport Beach police.
North of the Wedge, access to East Ocean Boulevard from  55th Place to 72nd Place was restricted to residents (map) for an unknown amount of time, the Long Beach Fire Department stated.
KTLA's John A. Moreno contributed to this report.
The @LACoLifeguards made 115 Ocean Rescues yesterday and have already made several today. Please Use Caution!! pic.twitter.com/0H2Ikk24p7

— LACoFD Lifeguards (@LACoLifeguards) August 27, 2014
More video: