This is an archived article and the information in the article may be outdated. Please look at the time stamp on the story to see when it was last updated.
With President Trump heading to the Los Angeles area Tuesday for a high-dollar campaign fundraiser on his first White House visit to California, law enforcement will be ratcheting up in preparation for potential protests.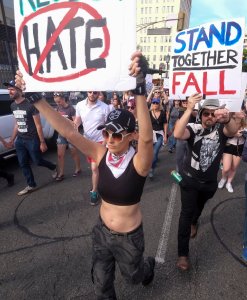 While details of the Trump visit remain clouded in secrecy, he is scheduled to attend an evening fundraiser for his reelection campaign when he visits California for the first time in his presidency and Los Angeles police and sheriff's officials are ready for spontaneous protests. Earlier in the day, Trump will inspect prototypes for a border wall, a key component of his campaign platform of a tough line on immigration.
His administration and the state's Democratic leadership have repeatedly clashed over immigration, environmental and other policies. The visit comes on the heels of the Department of Justice suing California over state laws that offer protections for immigrants in the country illegally.
"We are prepared for anything," said Los Angeles Deputy Police Chief Horace Frank, who oversees the counter-terrorism and special operations bureau. Frank said while no permitted protests in the form of marches are planned, authorities do expect to see protesters and supporters out in numbers during a presidential visit.
Read the full story on LATimes.com.