This is an archived article and the information in the article may be outdated. Please look at the time stamp on the story to see when it was last updated.
Three dogs were found dead – two in a bloodied Jurupa Valley animal shelter – and at least a dozen more were missing Sunday after an apparent break-in at the facility, according to the Riverside County Department of Animal Services.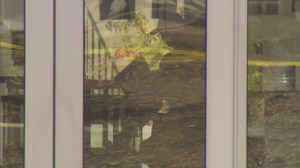 Although the shelter, located at 6851 Van Buren Blvd., is closed Sundays to the public, staff arrived around 6:30 a.m. to clean kennels, feed the animals and perform other routine duties, department spokesman John Welsh said.
The staff then discovered the bodies of two small dogs as several others roamed freely in the building.
"We found blood spatter everywhere," Welsh said. "There were some blood markings that were about 3 feet off the ground. We don't know exactly what caused that, but we don't suspect that an animal jumped into the air and caused that blood spatter."
It was not immediately known if the dogs had been killed by an intruder or larger dogs, but a preliminary examination did not find bite marks.
"Their deaths do not appear to be consistent with bite wounds. In other words, the bigger dogs causing the injuries to the dogs," Welsh said. 
The dogs were described as a 5-year-old Chihuahua who had been recently brought to the shelter and a 6-year-old Yorkshire terrier mix that was brought in the previous night.
The Yorkshire mix was microchipped.
"What that means is, we have a known owner. So that owner that may be looking for their dog is now going to have to get this very terrible news that their dog was found dead," Welsh said. 
A full necropsy was expected to determine the cause of their deaths.
About a mile from the shelter, the body of a third dog was located. It was described as an adult German shepherd, and Welsh said dog tags showed it had been from the Jurupa Valley shelter.
At least a dozen other dogs remained missing as of Sunday afternoon.
Several cut locks were placed in a pile inside the shelter, and investigators believe it had been broken into between Saturday night and Sunday morning.
Some 22 kennels were "essentially busted open, probably with bolt cutters," Welsh said. 
Shelter employees were working with Riverside County Sheriff's Department investigators and reviewing surveillance footage.
The video appeared to show a single man in dark clothing had broken into the shelter, Welsh said. It was not yet known if a clear image of his face could be captured.
The intruder did not appear to have entered rooms housing other animals at the shelter, and it was expected to reopen for its usual hours on Monday despite Sunday's gruesome scene.