This is an archived article and the information in the article may be outdated. Please look at the time stamp on the story to see when it was last updated.
As authorities on Monday continued to search for two males who brutally beat a 15-year-old San Pedro High School baseball player following a game last week, the teen was beginning to show signs of making a recovery.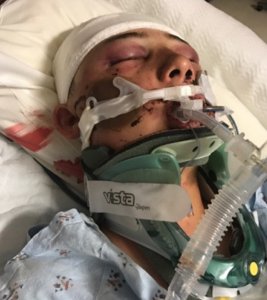 Evan Jimenez "is slowly starting to make progress in the right direction," wrote Steve Stout, who set up one of two GoFundMe pages devoted to paying for the teen's care. Stout posted the update on Monday morning after speaking with the family, he said. On Monday evening, family members told KTLA Jimenez had been taken off a ventilator and said he did not suffer any brain damage.
"He's coming to here and there, he's not completely aware of what is going on but he is doing better," Cortney Steinhoff, the teen's aunt, told KTLA. "
Jimenez remained in the intensive care unit of Harbor-UCLA Medical Center in West Carson, where he was making "good progress" and "continuing to improve," San Pedro baseball coach Steve Tedesco told KTLA Monday. He added that the teen had responded to his mother's commands on Sunday.
Jimenez was initially in serious condition after being viciously assaulted by two males around 10 p.m. Thursday in the 900 block of West Second Street, in an unincorporated part of San Pedro, according to the Los Angeles County Sheriff's Department.
He was walking home after leaving his friend's house when two males approached him and asked him about his gang involvement, according to Stout.
"When he told them he wasn't in a gang, they proceeded to assault him viciously," Stout wrote.
The assailants were likely trying to join the Rancho San Pedro street gang, sheriff's Detective Sgt. Ricky Osburn told the Los Angeles Times Monday.
Osburn told KTLA the attack could have been a gang initiation or it could have been an instance of gang members being territorial. The Rancho San Pedro tag is all over the alley where the assault occurred, he said.
Osburn told the newspaper the victim was not specifically targeted.
"Wrong place, wrong time," Osburn told the Times. "He has no criminal history, we've had no contact with him. Just seems like a good, normal teenage kid."
Jimenez was hit over the head with a Jack Daniels bottle, stepped on and "beaten beyond recognition," before his attackers left him to die in an alley, according to Tammy Meyers, who also set up a GoFundMe page to help with medical expenses.
A person in a vehicle pulled into the alley and drove the unconscious teen to Little Company of Mary Hospital in Torrance, sheriff's Lt. Tony Del Pinto said. Jimenez was later taken to Harbor-UCLA.
According to Stout, the teen has several broken bones in his face. He was sedated and on a breathing tube.
Doctors expect Jimenez will fully recover, but it "is going to be a long, painful road," Stout wrote. He added the teen could be in the hospital for at least a month, but possibly longer.
Tedesco described Jimenez as a "great kid," who is "very motivated" and "driven" in the classroom and on the field.
"He's had a tremendous impact on us. We miss him and we're praying for his recovery," he said.
An investigation into the attack is ongoing.
"We just hope that justice is done," Tedesco said.
Anyone with information about the case is encouraged to call Sgt. Osburn of the Sheriff's Department's Lomita Station at 310-539-1661. Those wishing to provide info anonymously can call Crime Stoppers at 800-222-8477.
KTLA's Melissa Pamer and Nisha Gutierrez-Jaime contributed to this article.