This is an archived article and the information in the article may be outdated. Please look at the time stamp on the story to see when it was last updated.
Two officers who worked alongside a good Samaritan to pull people out from a burning car following a crash in South L.A. said on Tuesday that once adrenaline kicked in, their only goal was to help the trapped victims.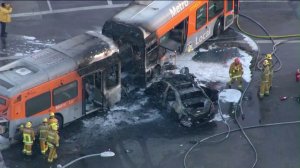 Seven people were injured, two critically, after at least two cars and a Metro bus with only a driver on board crashed near Martin Luther King Jr. Boulevard and Western Avenue in the Vermont Square neighborhood Monday around 6:30 p.m.
Street racing was being investigated as a possible factor, the Los Angeles Police Department said Tuesday.
Cellphone video captured a black Mercedes-Benz smashed into the side of the Metro bus as flames engulfed the two following the crash.
That's when the officers, who happened to be nearby trying to get a pet dog out of traffic, heard the collision and ran to the scene.
"We don't really think, we just react to a dangerous situation," Officer John Carlyle said of going to the aid of those trapped in the burning car. "Afterwards, obviously usually things sink in, but when we're there our main goal is to protect somebody. To save somebody."
The people were trapped by their seatbelt, and the female passenger screamed as Carlyle attempted to cut the fully deployed airbag and maneuver the dashboard and glove box that pinned her.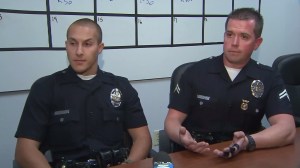 "It was getting pretty hot in the car and I could see the flames were coming into the passenger side, so I knew she had to get out," he said.
A good Samaritan then asked Brooks for his knife, and ran to the driver's side where they worked to cut the man's seatbelt and drag him from the car.
"You could just see the male driver just being cooked, and just being burned," Brooks said of the man, whose feet were still on fire as he was pulled away.
The officers said adrenaline kicked in when they realized people were trapped.
"We weren't thinking about getting hurt. We were just trying to help somebody else," Brooks said.