This is an archived article and the information in the article may be outdated. Please look at the time stamp on the story to see when it was last updated.
A Utah man suspected of critically wounding an off-duty Los Angeles County deputy in a shooting at an Alhambra Jack in the Box may be "potentially responsible" for a separate homicide that occurred the same day in downtown Los Angeles, officials announced Tuesday.
Rhett Mckenzie Nelson, 30, of St. George, Utah, was taken into custody Tuesday in connection with the shooting of Deputy Joseph Gilbert Solano, Sheriff Alex Villanueva said. Both of their names were released during a news conference Tuesday. Nelson is also suspected to be involved in the fatal shooting of a man in downtown that occurred about an hour before Solano was shot, Los Angeles police Chief Michel Moore said. In that incident, the 30-year-old victim was standing in a neighborhood that's a mix of industrial, commercial and restaurants in the 1900 block of Seventh Place when he exchanged words with a person in a vehicle. The victim was shot at least once and died at the scene. The driver then left the area. Just an hour later, Solano was standing at the counter of the restaurant in the 2500 block of West Valley Boulevard about 5:45 p.m. Monday when the gunman walked up from behind and shot him once in the head. The deputy was taken to County-USC Medical Center in critical condition and is on life support. Solano, a 13-year veteran of the department, was wearing his civilian clothes at the time of the shooting and was not displaying anything that would identify him as a member of law enforcement, officials said. Villanueva described Solano as a "kind-hearted, generous person," who was changing the oil on his mother's vehicle at the adjacent Jiffy Lube when he was shot. "We're all rooting for him to make a recovery," Villanueva said. Earlier Tuesday, the sheriff had a message for the gunman: "Whomever carried out this cowardly attack; we won't rest until we find you & ensure justice is brought swiftly upon you," Villanueva tweeted just before midnight.
Our #LASD family continues to persevere in the wake of the senseless shooting of our deputy. Our hearts & minds are solemnly united w/those who hold him dear. Whomever carried out this cowardly attack; we won't rest until we find you & ensure justice is brought swiftly upon you.

— Alex Villanueva (@LACoSheriff) June 11, 2019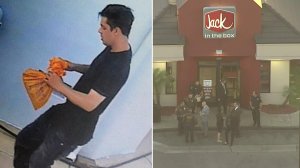 Nelson was seen on surveillance video at the restaurant and drove away in a 2012 white Kia Sorento SUV with paper plates. On Tuesday morning, Nelson apparently went into a church in Long Beach, where he called his father in Utah and told him he had committed "murder in Southern California," Sheriff's Capt. Kent Wegener said. Villanueva later said that Nelson told his father that he had killed two people. The suspect's father alerted authorities about the call, and Long Beach police officers were able to track down where it came from and responded to the church. Nelson was spotted in the suspect vehicle driving away from the church. He was eventually stopped in the 2400 block of Granada Avenue after pulling into a residential driveway, Wegener said. His appearance, clothing and vehicle matched what was seen in surveillance video from the shooting.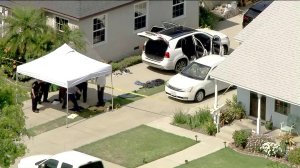 A revolver believed to have been used in the shooting of the deputy was found in Nelson's vehicle after a search, and he was arrested about 1 p.m. He was being interviewed by detectives Tuesday afternoon. Villanueva said that investigators have seen a flier indicating that Nelson was a missing person out of Utah. The flier, which was circulated on social media, said Nelson's family was concerned about his whereabouts and welfare. While the exact motive in the crime remains unknown, Wegener said the shooting appeared to have been a random attack. The investigation is ongoing and authorities are looking into reports that Nelson may have committed other crimes since getting to Southern California during the first week of June.
Correction: Based on an address provided by the LAPD chief, an earlier version of this article gave the incorrect neighborhood for a shooting to which the suspect may be tied. The post has been updated.