This is an archived article and the information in the article may be outdated. Please look at the time stamp on the story to see when it was last updated.
A pickup truck struck a woman in a West Covina parking lot before fleeing the scene in a hit-and-run that was caught on camera last week.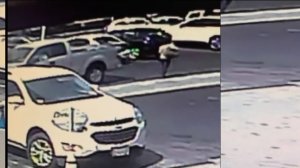 The incident occurred in a strip mall parking lot off South Glendora Avenue at about 1 p.m. on Sept. 22.
Liquor store owner Wael Aljouni provided KTLA and police with surveillance video of the crash.
The victim had just picked up food from a nearby restaurant and was walking through the parking lot when the incident occurred, Aljouni said.
The video shows a pickup truck driving in reverse through the parking lot and knocking the woman to the ground.
The victim was nearly run over by the back tire of the truck but managed to roll out of the way.
Aljouni believes the driver may have been looking for a parking space when he struck the woman.
After the crash, the driver briefly stopped and opened the door to the truck before continuing on without helping the victim.
"He opens the door. He sees her moving and just takes off," Aljouni said.
The woman complained of pain in her head, neck and shoulder as she was talking to police.
No license plate number or description of the driver was available.