This is an archived article and the information in the article may be outdated. Please look at the time stamp on the story to see when it was last updated.
West Covina police on Wednesday said they are investigating a firefighter's disappearance as a homicide, saying the case could be connected to a burned body found in San Bernardino County late last week.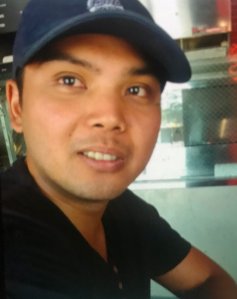 Two men have been arrested on suspicion of murder in connection with the killing of 28-year-old John Brian Mananghaya Aguila, according to Cpl. Rudy Lopez, the public information officer for the West Covina Police Department.
He identified them as 18-year-old Elijah Rouse and 36-year-old Shaun Cardarelli. Both were booked and are being held on $1 million bail.
Aguila hasn't been seen since he left his girlfriend's home in La Puente about 4:30 p.m. last Thursday, according to his family.
He never returned to his home, nor did he show up for his job as a part-time firefighter for the Bureau of Land Management.
A day after he vanished, Aguila's white 2017 Honda Civic was impounded in San Dimas. Officers searched the car and discovered gloves and bloody clothes in the trunk, police said.
They also located surveillance video that showed another man walking away from the Civic in a residential area of San Dimas in broad daylight.
The footage led police to the La Verne home of Rouse, where a SWAT team served a search warrant at a home in the 1400 block of Third Street on Tuesday morning, according to investigators.
Evidence found at the residence led investigators to believe Aguila was killed.
"The checking of the location revealed some information that led us to believe that the incident that we're investigating is connected to the body that was found burned in the city of Upland," Lopez said.
Fire crews found the charred remains early last Friday after extinguishing a blaze in the area of Mountain and Euclid avenues.
Police could not say definitively that the body found was Aguila's, as the coroner's office has not yet identified the victim.
"We don't know positively that it's connected, but we're looking in that direction," Lopez said.
Police were also unable to confirm whether either suspect is the man seen in the surveillance video.
Also unknown is what, if any, relationship there was between the suspects and the victim. A motive remains under investigation.
A third person was detained on a warrant, but has not yet been arrested in the case, according to Lopez.
Anyone with information is asked to call police at 626-939-8557 or leave a tip anonymously at 626-939-8688.