This is an archived article and the information in the article may be outdated. Please look at the time stamp on the story to see when it was last updated.
Firefighters knocked down a dramatic blaze that burned two floors of a luxury condominium building in West Hollywood just north of the Sunset Strip on Thursday afternoon.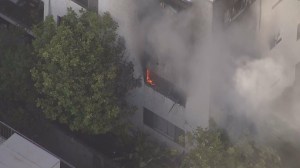 The fire was reported at Horn Plaza (map), which is near Sunset Boulevard, shortly before 4 p.m., Los Angeles County Fire Department Supervisor Art Marrujo said.
The blaze burned the second and third floors of the building and prompted a third-alarm response, according to tweets from the Fire Department.
"This building is … at the top of a steep hill. Very difficult getting here," said fire Capt. Brian Jordan. "Some of the fire engines are parking down on Sunset Boulevard, and they had to hike up this hill with 100 pounds of gear."
The blaze was declared knocked down at approximately 4:45 p.m., Marrujo said.
Multiple units appeared to have been damaged by the flames, aerial video showed. About a dozen residents were on the street outside the complex, which one homeowner said contained 102 units.
The fire also charred a portion of the outside of the building.
One firefighter received an injury of an unknown nature, Marrujo said.
A firefighter who was wheeled out of the complex and into an ambulance was holding his leg, video from the scene showed.
Sunset Boulevard appeared to have been closed in both directions to traffic at Horn Avenue as of 5 p.m., according to the aerial video.
The fire was under investigation.