This is an archived article and the information in the article may be outdated. Please look at the time stamp on the story to see when it was last updated.
A high-profile skin care expert tried to contact a white supremacist group to kill a business rival who was a "double minority, Mexican gay," a sheriff's detective testified in a Los Angeles courtroom Monday.
Dawn Melody DaLuise, 55, appeared at Airport Courthouse for a preliminary hearing  at which a judge determine there was enough evidence to bring her to trial on one count of solicitation of murder.
The North Hollywood facial specialist allegedly attempted to hire someone to kill a rival esthetician who opened a skin care business in the same West Hollywood complex as hers, according to the Los Angeles County District Attorney's Office.
She was charged March 7, pleading not guilty about two weeks later.
DaLuise's business, Skin Refinery, claimed multiple Hollywood actresses as clients.
Clad in a blue jail jumpsuit, DaLuise smiled as she walked into the courtroom, where a Los Angeles County Sheriff's Department detective later testified about the defendant's plan to have Gabriel Suarez killed.
Detective Steven McCauley testified that he interviewed several men that DaLuise had allegedly contacted in attempt to hire someone to kill Suarez, who had opened a salon called Smooth Cheeks.
"In one instance … she asked him if he could get her in contact with a white supremacist group, and the phrase from that point was, in essence, to find somebody to take out a 'double minority, Mexican gay,'" McCauley said.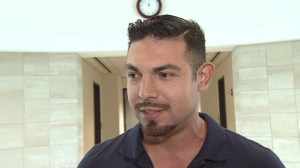 DaLuise tried to make it appear that Suarez had been stalking her online, the prosecutor said. She had contacted authorities with complaints about her competitor, providing investigators with a list of witnesses who purportedly knew about the alleged cyberstalking.
Several of those witnesses told investigators that DaLuise had asked them to lie to police about Suarez.
Nearly and hour's worth of audio recordings were played in court in which McCauley interviewed DaLuise at a Denny's restaurant.
Outside the courtroom, Suarez said he was learning more details about the case and found them frightening.
"It's just really scary," Suarez said. "The hate that this person could have toward somebody …."
DaLuise faces nine years in state prison if convicted.
She was being held on $1 million bail at the Century Regional Detention Facility in Lynwood.
She was due back in court July 7.