This is an archived article and the information in the article may be outdated. Please look at the time stamp on the story to see when it was last updated.
A babysitter has pleaded not guilty to murder and child abuse charges that stemmed from the death of a 4-year-old girl she was watching, the Los Angeles County District Attorney's Office announced Tuesday.
Vanessa Denise Hawkins Scott, 53, was arrested Friday after taking the unresponsive girl to Good Samaritan Hospital in Los Angeles, where she was pronounced dead, according to authorities.
The babysitter had been watching the girl while her mother was away, a news release from the DA's office stated.
The girl was identified as Mya Migneault by a relative running the Facebook page Justice For Mya, where one photo posted included the caption, "Mya's 4th and last birthday."
"Mya was the most loving little girl. So sweet and loved to cuddle," the family member wrote in a message to KTLA.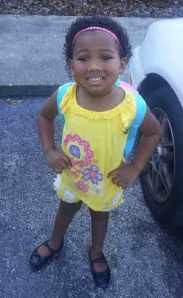 The girl died of blunt abdominal trauma and her death was ruled a homicide, according to the Los Angeles County coroner's office.
When she became unresponsive, Hawkins Scott took her by public transportation to a hospital instead of calling 911, the Los Angeles Times reported Wednesday, citing Los Angeles police.
Hawkins Scott, a resident of the Westlake area of Los Angeles, has been charged with one felony count each of murder, assault on a child causing death and child abuse, prosecutors said in the release.
Hawkins Scott, who was being held on $1.1 million bail, was scheduled to return to court on April 7 for a preliminary hearing, according to the DA's office.
She faces up to life in prison if convicted.