This is an archived article and the information in the article may be outdated. Please look at the time stamp on the story to see when it was last updated.
WESTLAKE VILLAGE, Calif. (KTLA) — School officials completed their investigation Thursday into an alleged hazing incident in Hawaii involving members of the Westlake High School football team.
About 160 students were in Oahu last week to compete against Hawaii schools when the alleged incident happened.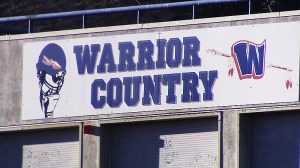 At least two students were taken into custody and later released, Conejo Valley Unified School District Superintendent Jeffrey Baarstad told KTLA.
One of the students, a 17-year-old, was booked on suspicion of sexual assault, but Honolulu prosecutors declined to file charges.
"On Friday afternoon, apparently, one of the parents went to the police with the allegations of an assault and a potential sexual assault. Two kids were arrested. One was immediately released to a coach and no charges were filed," Baarstad said.
"A second (player) was held until Sunday and was released to the parents on Sunday, and no sexual assault charges are being filed," Baarstad said.
Five varsity players were suspended as a result of the incident, which Baarstad described as being "blown way out of proportion."
When asked about reports of hazing, Baarstad said, "I think the allegation of hazing actually has to do with a freshman teasing one of the senior players that afternoon."
The freshman "knocked a baseball cap off" the senior's head, he said.
A report outlining the school's investigation was expected to be forwarded to the Thousand Oaks Police Department for review, Supt. Jeff Baarstad told the L.A. Times.