This is an archived article and the information in the article may be outdated. Please look at the time stamp on the story to see when it was last updated.
Several Westside families and school employees are suing to prevent construction that they say will harm students at Palms Elementary School.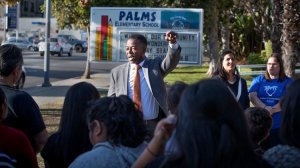 The cause for concern is a large apartment development that would be built adjacent to the campus. A fence is all that separates the construction site from the kindergarten play area, potentially exposing the students to toxic dust and other harms, according to the lawsuit filed by attorney Olu K. Orange, a parent at the school.
An additional worry, Orange said, is the potential effect on hearing-impaired students who benefit from a special program at Palms. These students use devices that amplify sounds and spend some of their time in a specially outfitted classroom — with carpeted walls and a low ceiling — that is designed to minimize extraneous sounds.
"Every distinct noise and ongoing noise interferes with their ability to learn," Orange said. "It hurts them and it causes them pain."
Read the full story on LATimes.com.