This is an archived article and the information in the article may be outdated. Please look at the time stamp on the story to see when it was last updated.
RANCHO PALOS VERDES (KTLA) — This past weekend set records for whale watching off the coast of Redondo Beach and Rancho Palos Verdes.
The Pacific gray whales appeared i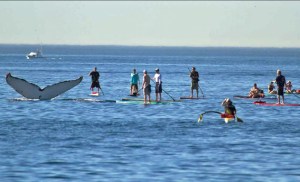 n numbers we haven't seen in decades, but not everyone is happy with the historic sightings.
In fact, many local animal rights activists are worried about humans getting too close, and even threatening, the whales.
"You know, I get it, because it's very exciting, they're curious, they want to see it and all," said Deborah Leon of the Gray Whale Census Project. "But I think we need to be educated."
"We are affecting the whales' behavior and ultimately the whales' health," said Bernarndo Alps, of the Cabrillo Marine Aquarium in San Pedro.
"Even if the whale doesn't show an extreme behavior like changing direction and swimming away very rapidly, the whale is still being stressed," he explained.
The Marine Mammal Protection Act says to stay clear 100 yards at minimum, and nothing that alters the whales' behavior.