This is an archived article and the information in the article may be outdated. Please look at the time stamp on the story to see when it was last updated.
A man in a wheelchair was killed by a hit-and-run driver on a street in Fullerton about five months after the victim was struck in nearly the same location, police said Tuesday.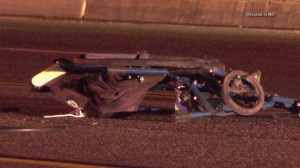 Officers responded to the 2600 block of Orangethorpe Avenue, just north of the 91 Freeway (map), after a caller reported the crash at 11:58 p.m. Monday, said Sgt. Jeff Stuart of the Fullerton Police Department.
The victim was found in the middle of the road and was pronounced dead at the scene. He was not in a marked crosswalk at the time of the incident, according to authorities.
His name was being withheld pending confirmation from the county coroner's office, police said.
He had been hit in the same location on March 3, when his blood-alcohol content was .36, or 4 1/2 times the legal limit for motorists, according to a police news release sent out Tuesday afternoon. In California, drivers are considered legally impaired when their blood-alcohol content is .08.
The victim had also been drinking when he was struck by a vehicle in Buena Park in 2008, according to police.
On Monday night, the driver fled westbound on Orangethorpe, toward Magnolia Avenue, after the collision, the Police Department said.
"Unfortunately, whoever was driving the vehicle tonight made a poor decision by leaving the scene. We don't know why they chose to do that," Stuart said. "We understand that accidents do occur. We need to talk to them and find out what happened."
A description of the driver was not immediately available. Witnesses told police the vehicle was a white or light-colored SUV, possibly a Ford Explorer or Expedition, or a pickup truck with a camper shell.
Anyone with information is asked to contact Investigator H. Rios of the Fullerton Police Department 714-738-6812.
KTLA's Melissa Pamer contributed to this article.