This is an archived article and the information in the article may be outdated. Please look at the time stamp on the story to see when it was last updated.
Los Angeles firefighters and the FBI responded to KTLA's Hollywood studios Tuesday after an unknown white powder, which was found not to be hazardous, was sent to the station.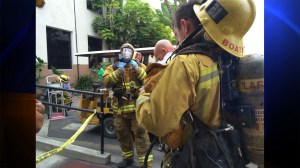 The powder was inside an envelope that was opened in the mailroom, News Director Jason Ball said. The envelope was addressed to KTLA, Ball said.
Los Angeles Police Department officers were also on scene at the station, at 5800 Sunset Blvd. (map).
A Fire Department test for anthrax came back negative, Ball said, and a hazardous materials team found "negative" results after further tests.
Fire Department officials were clearing the scene just after noon, but LAPD and FBI officials were remaining to continue to investigate, Ball said.
Firefighters could not detail what had been found until a battalion chief arrived on scene, but first responders were seen wearing gas masks before descending into the basement mailroom.
Police were also responding just before noon to the 1900 block of Bundy Drive on L.A.'s Westside after a report of white powder sent in an envelope, according to Officer Wendy Reyes with LAPD's Media Relations Section.
Los Angeles' Fox affiliate, KTTV, which is located in the 1900 block of Bundy Drive (map), announced an "all clear" on its website. A "questionable letter" had been sent to the station's studios, according to the brief online statement.
"All tests proved negative and there was no impact on operations," the KTTV statement read.
The envelope sent to KTLA was opened at about 11 a.m.