This is an archived article and the information in the article may be outdated. Please look at the time stamp on the story to see when it was last updated.
Three men were recently arrested for various offenses including possessing heroin and methamphetamine after authorities said they monitored white supremacist gang members in Costa Mesa.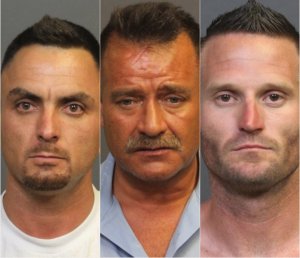 One of two traffic stops on Friday resulted in the seizure of $12,000, heroin, a quarter pound of methamphetamine, a taser, two batons and a digital money counter, the Costa Mesa Police Department said in a statement.
Norman Michael Powers, 53, of Midway City was arrested on suspicion of possessing heroin and meth for sale, having a taser and billy clubs, and resisting an officer, authorities said on Tuesday.
Powers, who was arrested after 3:50 p.m. in the 2300 block of Harbor Boulevard, is in custody on $250,000 bail.
Earlier in the day, authorities seized meth, a loaded semi-automatic handgun, ammunition and drug paraphernalia after a 1:30 p.m. stop in the 2400 block of Newport Boulevard.
Brian Jay Bishop, 35, of Trinidad, Texas was arrested on suspicion of meth for sale, possession of a concealed and loaded firearm while possessing drugs and possessing a firearm but not being the registered owner, authorities said.
Since the arrest, Bishop posted bail and was released.
David Len Mcafee, 33, of Sacramento was also arrested on suspicion of an outstanding arrest warrant during the traffic stop with Bishop, authorities said.
Another similar surveillance enforcement was conducted between May 11 and May 16 and Costa Mesa Police Department gang investigators arrested 10 people in the 2000 block of Fordham Drive.
Seized in the early May enforcement was heroin, cocaine, ammunition, drug paraphernalia and prescription medication, authorities said.