This is an archived article and the information in the article may be outdated. Please look at the time stamp on the story to see when it was last updated.
An 8-year-old boy saved six members of his family when he woke them up as their house began to burn in an early-morning fire in the Whittier area on Wednesday, a county fire official said.
The boy was asleep when the fire began about 4:30 a.m., but was awakened by smoke and proceeded to wake up six other family members and ensure they left the burning house, according to Los Angeles County Fire Department Capt. Brian Jordan.
The young hero was later identified as Niccolo Owens, who said he smelled smoke and fire when he woke up to use the bathroom.
"I turned and there's fire right there, and my uncle was right by the fire, his head," Niccolo said.
The boy said he was able to wake up his uncle and then stopped his mom from trying to put out the fire, saying she couldn't do it by herself. The family appeared to have escaped unharmed.
He learned emergency evacuation procedures and fire response in training at school, Niccolo said.
If he hadn't helped, Niccolo said, "Our house would have been on fire and the neighbors had to call 911. … It would be just a disaster."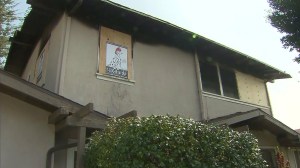 Normally, smoke will not cause a sleeping person to wake up and can cause serious injury or death, according to Jordan.
About 30 firefighters responded to the home in the 12700 block of East Beverly Boulevard (map), eventually knocking the fire down, Jordan said. Initial responders reported smoke and fire coming from second-story windows.
The fire was caused by an overloaded electrical outlet, and the home did not have smoke detectors, Jordan said. He urged people to test their smoke detectors.
Niccolo said he was proud of saving his family, though he lamented losing all his toys to the flames.
"The smoke alarms didn't go off," Niccolo said. "I guess I was the smoke alarm."