This is an archived article and the information in the article may be outdated. Please look at the time stamp on the story to see when it was last updated.
A Whittier couple arrested at the Mexico border with a 2-year-old girl's body in a duffel bag allegedly sexually trafficked her mother, seized the child, severely abused the girl and then killed her.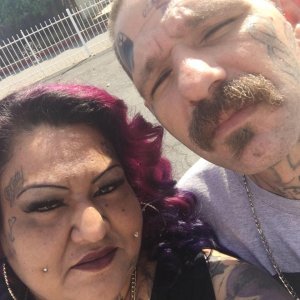 The details of the allegations were announced Thursday by the Los Angeles County District Attorney's Office, which said charges of murder, torture and other counts had been filed against Mercy Mary Becerra, 43, and Johnny Lewis Hartley, 39.
The pair are expected to be arraigned in downtown Los Angeles Friday.
They were arrested Aug. 9 at the San Ysidro Land Port of Entry as they tried to get into Tijuana on foot. Inside a bag carried by Hartley, customs agents found the little girl's body, San Diego police said at the time.
The girl was the daughter of a woman the couple is accused of trafficking between November 2012 and August 2016, according to the DA's office.
The adult victim is identified in the criminal complaint as "Amanda Z."
During that period, they "seized" the little girl, abused and killed her on or about Aug. 9, prosecutors allege.
The girl is identified in the complaint as "Angelina W."
Becerra and Hartley have been charged with murder, human trafficking to commit pimping/pandering, torture and assault on a child causing death.
The felony complaint was filed Sept. 27.
The torture charge is for the couple's alleged treatment of the little girl, and the allegation spans the period of Jan. 1 to Aug. 9, according to the complaint. The human trafficking charge refers to an intent to commit pimping of a prostitute.
Becerra and Hartley each face life in state prison if convicted as charged.
The pair was charged in August in San Diego County; that case was dismissed Wednesday, a spokeswoman for the L.A. County DA's office said.
Prosecutors in San Diego County had said the child had been drowned in Whittier, but the criminal complaint in Los Angeles County states assault by means of force likely produce great bodily injured resulted in the toddler's death.
San Diego police are working with Whittier police and the Los Angeles County Sheriff's Department on the case.