This is an archived article and the information in the article may be outdated. Please look at the time stamp on the story to see when it was last updated.
Two people were arrested in Whittier Saturday night following several possibly related shootings in surrounding cities, officials reported.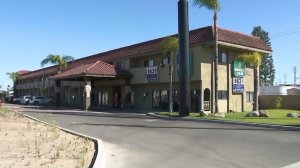 The man and woman were arrested at about 8:30 p.m. after Whittier police responded to a report of a shooting at a hotel, the Los Angeles County Sheriff's Department reported in a news release. Sheriff's officials originally said the two were detained Sunday, but later corrected the date to Saturday.
Whittier and LASD detectives worked to determine if they are suspects from earlier crimes, according to sheriff's Sgt. Vincent Plair.
The two had allegedly opened fire on one another at a Budget Inn in Sante Fe Springs and were found in a stolen car, "which kind of turned them into suspects," Plair said.
Both were arrested on suspicion of stealing a car.
"It just so happened that they matched the description of the suspects in the earlier shootings in Whittier and La Mirada area," Plair said.
But officials were still working to determine whether the man and woman are the suspects wanted for a series of unprovoked shootings on Saturday in La Mirada, Pico Rivera and Whittier that left one man dead and several others injured.