This is an archived article and the information in the article may be outdated. Please look at the time stamp on the story to see when it was last updated.
Two women believed to be mother and daughter were found dead Monday evening in their Whittier home, authorities said.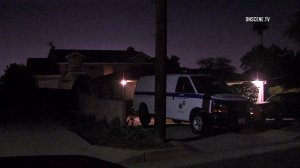 Whittier police officers responded to the 12400 block of Beverly Drive around 8:48 p.m. after receiving a call that a couple was unresponsive. When they arrived, officers found the women — one believed to be in her 70s, the other in her 90s — and attempted to revive them.
Police said they don't know how the two died.
"There is no indication of any foul play, no injury, nothing we could see that was noticeable that was related to their death," said Lt. Jay Tatman. "It's obviously peculiar to us."
Read the full story on LATimes.com.