This is an archived article and the information in the article may be outdated. Please look at the time stamp on the story to see when it was last updated.
A widow whose husband was killed last weekend following a violent road rage fight and carjacking in Van Nuys recounted her husband's heartbreaking last moments Wednesday.
The incident occurred about 9:50 p.m. Sunday in the 7400 block of Sepulveda Boulevard.
Andrew Patsukevich, 37, had been dragged while holding on to the side of his car and eventually died, LAPD officials said.
A man who had been on a bicycle and got away with Andrew's and his wife Oxana's car remains at large.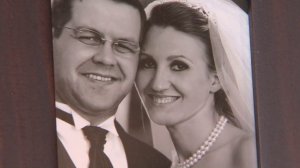 Oxana and Andrew met online while she was living in Eastern Europe. The couple were married in Riverside in 2010 and moved to Van Nuys.
They were driving home Sunday when they came across a man on a bicycle who hit their car. Oxana said the bicyclist was waiting for a reaction.
Andrew got out of the vehicle and the man suddenly pulled out a wrench and started swinging at Andrew next to their car, Oxana told KTLA through an interpreter.
"As Andrew started defending himself, somehow the biker guy ended up with his back in their doorway," she said.
Andrew then fell to the ground; Oxana also opened her door and fell out. The man then started driving forward in their car and Oxana believes Andrew held on to the door because he thought she was still inside.
"He dragged his body against all the parked cars that were there, breaking everything," she recalled, through tears.
The man drove away, leaving Andrew on the ground. An ambulance eventually took him to the hospital, where he died.
Oxana blames herself for what happened.
"He gave his life for her because she cannot imagine what kind of strength you must have to hold onto a car that long while your body is being dragged across parked vehicles," Oxana's interpreter said.
Oxana and Andrew's family and friends have stayed by her side ever since. A GoFundMe page has been set up to help pay for Andrew's funeral expenses.
Los Angeles police found the Patsukevichs' stolen vehicle but the driver remains at large.
He is described as a Hispanic man, wearing a dark hooded sweatshirt and dark pants, approximately 20-30 years-old, standing about 5 feet 11 inches tall, and weighing between 140-160 pounds.
Anyone with information about the incident was asked to contact Valley Bureau Homicide Detective Steve Castro at 818-374-1925.