This is an archived article and the information in the article may be outdated. Please look at the time stamp on the story to see when it was last updated.
The wife of an 80-year-old man who was shot dead by Los Angeles County Sheriff's Department deputies in a mistaken meth lab raid is planning to sue the county for $50 million, she said.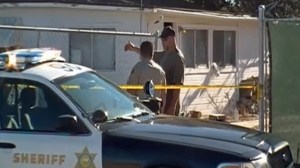 On the morning of June 27, detectives raided the couple's home in unincorporated Littlerock, serving a search warrant granted because the property allegedly smelled of the ingredients used to make methamphetamine, according to sheriff's department officials.
There's a dispute about what exactly happened at the home in the 36600 block of 117th Street East (map), east of Palmdale, but Eugene Mallory ended up dead, shot six times.
No evidence of a meth operation was ever found, though sheriff's officials say marijuana was found on the property.
On Friday, attorney James Bergener plans to announce his filing of a civil lawsuit on behalf of Mallory's widow Tonya Pate against the sheriff's department and the Los Angeles County Department of Coroner, which Pate says released Mallory's remains to an out-of-state relative. Pate will ask for upwards of $50 million.
During the June raid, Mallory raised a semi-automatic handgun in response to deputies, who fired on him, the sheriff's department said at the time. Two guns were recovered at the scene, according to sheriff's department spokesman Steve Whitmore.
"Age does not preclude somebody from being aggressive toward deputies," Whitmore said. "The lesson here is… don't pull a gun on a deputy."
Pate said Mallory, a former engineer with Lockheed Martin, respected law enforcement and would never have used a gun against officers.
"He would never point a gun at officers," said Pate, 48. "Every day I stay in that house with that bloody bedroom … where I know he was taken from me for no reason."
Mallory did own two guns that were in the house, Pate said. She said his glasses were beside his bed when he was killed, and could not have seen because of poor eyesight.
"He was shot in his bed before there was any warning given," Bergener said..
Marijuana was found on another part of the property where Tonya's lived, she said.
"There was a drug operation that was certainly going on in this house," Whitmore said.
KTLA's Melissa Pamer contributed to this report.