This is an archived article and the information in the article may be outdated. Please look at the time stamp on the story to see when it was last updated.
A judge Friday sentenced the wife of slain Bell Gardens Mayor Daniel Crespo to 90 days in jail and five years of probation for his killing — putting a coda on a case defined by allegations of betrayal, violence and fury.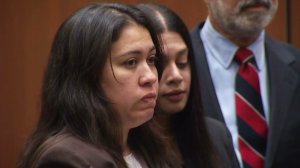 The sentencing came after Lyvette Crespo, who told authorities that she was a battered wife and that she shot her husband to keep him from hurting their son, negotiated a plea with prosecutors.
In issuing her ruling, Superior Court Judge Kathleen Kennedy called the case a "case study" in the "pain, hurt and scaring" caused by domestic violence.
"This was bound to end in tragedy," she said. "I believe that she was abused throughout their marriage. I don't think it warrants a prison sentence."
Click here to read the full story on LATimes.com.