This is an archived article and the information in the article may be outdated. Please look at the time stamp on the story to see when it was last updated.
Authorities were searching Wednesday for a 33-year-old woman accused of fleeing her Victorville home with her two children after killing her husband, according to the San Bernardino County Sheriff's Department.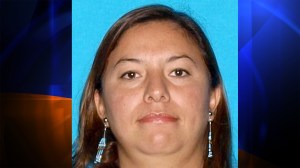 Officers from the Victorville Police Department discovered the body of  Antione Smith on Tuesday at his residence in the 13700 block of Brynwood Street, according to news release from the sheriff's department.
Officers were called to the home to conduct a welfare check on Smith after his friends and co-workers had not seen or heard from him in several days.
Smith's body was found inside a bedroom of the residence, the release stated.
Investigators determined that the victim's wife, Leticia Smith, was responsible for his death and issued an arrest warrant, according to the release.
Leticia Smith was suspected of fleeing the residence with her two children, 8-year-old Isabel and 4-year-old Abigail, investigators said.
She was believed to be driving a 2010 Silver four-door Honda Accord with California license plate No. 7FBT742.
Anyone with information was urged to immediately call 911 or sheriff's dispatch at 760-956-5001.
More video: