This is an archived article and the information in the article may be outdated. Please look at the time stamp on the story to see when it was last updated.
A witness captured cellphone video of a violent road-rage incident involving two men on a street in Hollywood on Monday morning.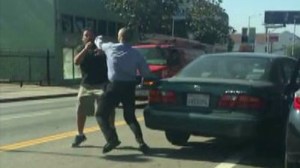 The incident began about 9:25 a.m. on Highland Avenue, just south of Hollywood Boulevard (map), according to the driver who recorded the video. He declined to be identified by name.
The witness said he was traveling southbound on Highland when two other drivers in Toyotas — a Corolla and Avalon in adjacent lanes— stopped in front of him. It was unclear if any passengers were in the vehicles.
The video shows the Corolla driver reaching out of his window and punching the passenger side of the Avalon. Both cars then drive forward several feet before stopping again.
The men exit their vehicles and walk toward each other. The Corolla driver begins swinging his fists, knocking the other man to the ground as an oncoming van drives past and barely misses him.
The attacker pounces on the other man, punching him repeatedly while he is still on the ground. The assailant then returns to his car and gets in as a male bystander rushes toward him, throwing a punch as the Corolla drives away. Meanwhile, the other driver stands up and reenters his car.
The man who recorded the video said a nearby traffic officer appeared to be writing down the license plate numbers of the two vehicles. However, a spokesperson for the Los Angeles Police Department's Hollywood Division said the incident had not been reported as of Tuesday morning.
The witness described the roadway encounter as unusually violent.
"It's typical to see somebody yell or honk, but rarely do both guys get out of the vehicle and throw down in the middle of the street," he said. "For some people, it's getting so old — the traffic in this town — that's it's flying into a whole other level."
More video: