This is an archived article and the information in the article may be outdated. Please look at the time stamp on the story to see when it was last updated.
IDYLLWILD, Calif. (KTLA) — Expanded evacuation orders remained in place on Thursday, as firefighters continued to battle the raging Mountain fire in Riverside County.
The blaze had burned 22,800 acres and was 15 percent contained as of Thursday morning, according to the U.S. Forest Service.
The most active parts of the fire were near Red Tahquitz Peak above the community of Idyllwild and near the community of Trails End to the south.
About 6,000 people were under evacuation orders, including new evacuations issued Wednesday night after a shift in the winds pushed the fire toward Idyllwild.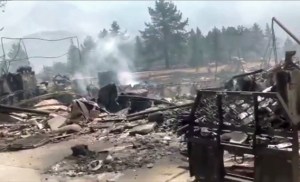 Mandatory evacuations were in effect for Idyllwild, Fern Valley and adjacent communities.
U.S. Forest Service Campgrounds, the U.S. Forest Service Wilderness and the Mt. San Jacinto State Park were also included in the evacuation orders.
The evacuations did not include the areas of Pine Cove, Mountain Center, Idyllwild West and Poppet Flat, officials said.
The blaze was initially reported on Monday afternoon near the junction of Highway 243 and Highway 74.
It was burning in rugged terrain east of the Mountain Center and Apple Canyon areas, in the southern portion of the San Jacinto Wilderness.
Nearly 3,000 firefighters were assigned to the blaze, aided by 17 helicopters and 10 fixed-wing aircraft, including a DC-10.
They were dealing with near-triple-digit temperatures and humidity as low as 5 percent.
The fire has destroyed at least a half dozen homes.
Three mobile homes and three residences were destroyed in Bonita Vista, and one additional residence was damaged, officials said.
In Pine Springs, one commercial building, a workshop, a garage and a cabin were destroyed, Forest Service officials said.
There were no damages reported in the Zen Mountain Center area.
In addition to the structures, there were a total of 11 outbuildings and four to six vehicles destroyed, officials said.
Mandatory evacuations were still in effect for the Andreas Canyon Club south of Palm Canyon Drive in Palm Springs, Bonita Vista, Pine Springs and the Zen Mountain Center.
Trails End was also evacuated at the north end of Morris Ranch Road.
Camp Ronald McDonald and Camp Joe Sherman were voluntarily evacuated to to air quality concerns.
Highway 243 was under a soft closure from Banning South to Mountain Center.
Highway 74 was also under a soft closure from the Cranston Fire Station near Valle Vista east to the junction with Highway 371.
The soft closures were in place to allow residents access to gather items from their homes or properties.
Additionally, the Pacific Crest Trail was closed from State Highway 74 to Saddle Junction.
All connector trails to the PCT were also closed, including South Ridge Trail, Carumba Trail, Spitler Peak Trail, Fobes Trail and Cedar Springs.
All Forest Service Campgrounds located along Highway 243 were closed, along with San Jacinto State Park and the San Jacinto Wilderness.
Hurkey Creek County Campground and all of the hiking and mountain biking trails out of Hurkey creek and May Valley were closed.
A new Red Cross evacuation center was set up Wednesday at Beaumont High School, at 39139 Cherry Valley Blvd.
Another Red Cross shelter was set up at Hemet High School, located at 41701 E. Stetson Ave. in Hemet.
Another shelter was also set up at Hamilton High School, at 57430 Mitchell Road in Anza. It can also accept small animals.
A large and small animal shelter has been opened at Lake Hemet campground in Garner Valley.
Small animals can also be brought to the San Jacinto Animal Shelter, located at 581 S. Grand Ave. in San Jacinto.
The cause of the fire remained under investigation. The cost to date of fighting the fire was estimated at $5.5 million.