This is an archived article and the information in the article may be outdated. Please look at the time stamp on the story to see when it was last updated.
A brush fire burning in southwest Riverside County grew quickly and was pushing toward the community of Lakeland Village on Thursday afternoon, and had prompted evacuations in Wildomar by early evening.
The blaze started within the Wildomar Off-Highway Vehicle area in the Cleveland National Forest, the Forest Service said about 1 p.m. The OHV area is in a rugged part of the Santa Ana Mountains.
The blaze ignited around 12:30 p.m. after an 18-year-old motorcyclist slammed into a tree, the Los Angeles Times reported, citing a California Highway Patrol official.
The rider -- who came away from the crash with minor scrapes -- tried to extinguish the fire "using what was around him," according to the Times. When that failed, he ran at least two miles to his truck, grabbed his cellphone and alerted authorities.
Within 2 1/2 hours, the estimated acreage grew from 2 acres to 200 acres. By 8:30 p.m., it was at 350 acres and 15 percent contained, with about 290 fire personnel on scene.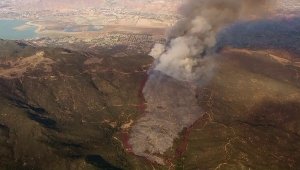 Evacuations were in place for the Wildomar community along Hixon Truck Trail, the Cleveland National Forest said on Twitter. About five residences were impacted by the order.
A care and reception center has been set up at the gym of Lake Elsinore High, located at 21800 Canyon Drive in Wildomar for those impacted by the fire. Small and large animals can be taken to the San Jacinto Animal Campus at 582 W. Grand Ave. in San Jacinto.
An evacuation warning was also in place for the Lakeland Village Community area west of Grand Avenue, north of McVicar Street and south of Akley Street. Motorists were also urged to avoid Grand Avenue because of traffic and emergency vehicles.
Cal Fire Riverside's units were working with Forest Service firefighters on the blaze. Twenty fire engines were ordered to protect Lakeland Village as flames pushed east, the Cleveland National Forest said midafternoon.
Aerial video from Sky5 showed fuchsia lines of Phos-Chek fire retardant dropped along hillsides in an attempt to contain the blaze, and a DC-10 jet could be seen circling the blaze.
Smoke was towering above the mountains and was visible from miles away.
A heat wave that lasted through the early part of the week had begun to break by Thursday, but it remained in the mid-90s in the area when the fire erupted. A red flag warning for dangerous fire conditions in much of Southern California expired on Wednesday.
For information on the fire, locals should call the Cleveland National Forest's Trabuco Ranger District at 951-736-1811.