This is an archived article and the information in the article may be outdated. Please look at the time stamp on the story to see when it was last updated.
FILLMORE, Calif. (KTLA) — Fire officials in Ventura County said a wind-driven brush fire near Fillmore that destroyed two homes and forced hundreds to evacuate is fully surrounded Tuesday.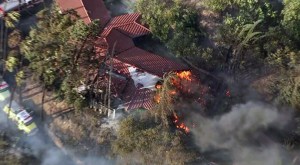 The blaze has scorched about 170 acres and was 100-percent contained as of Tuesday afternoon.
Fire officials said they took advantage of improved weather conditions to get a handle on the flames.
The fire was reported just before 3:15 p.m. Monday at a mobile home in the 1400 block of Goodenough Road.
Fire crews were able to knock that blaze down, but then the fire quickly spread to adjacent brush and began burning uphill.
The flames, fanned by powerful winds, destroyed two homes and prompted mandatory evacuations for about 84 homes, affecting some 200 people.
Those evacuation orders were lifted as of about 12:30 a.m. Tuesday, and homeowners were allowed to return.
About 400 firefighters from Ventura County, L.A. County, Santa Barbara, Santa Paula and Fillmore battled the blaze, aided by three water-dropping helicopters.
Officials say crews will remain on scene the rest of the day to make sure there are no flare ups.
The winds created some accessibility issues for firefighters on Monday due to toppled trees, downed power lines and debris.
"When it came time for our equipment to head up into the area where the fire was hitting, they had a difficult time getting up there," Lindberry explained.
The cause of the fire remains under investigation, however, a man who lives in the area says the blaze started after strong winds toppled a tree into some nearby power lines.
No injuries to firefighters or civilians have been reported.