This is an archived article and the information in the article may be outdated. Please look at the time stamp on the story to see when it was last updated.
Maybe Kenneth York should invite his neighbors over and pop open a few $200 bottles of his Cabernet Sauvignon to chill them out.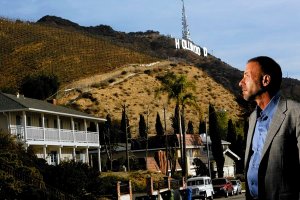 Homeowners who live near the Hollywood sign are livid over York's plan to build a two-story, 8,000-square-foot mansion, a 1,300-square-foot guest house, a pool, a tennis court and "wine caves" next to the sprawling vineyard he planted years ago above their homes.
Residents complain that York — a Glendora ophthalmologist who planted six acres of grapes in 2001 —intends to build a third-of-a-mile-long road up a steep section of Mt. Lee and bulldoze a series of terraces, work that will cause years of dust and noise.
Before he begins construction, however, York needs waivers from the city for the massive amount of grading he needs to do and construction of the roadway and numerous retaining walls.
Click here to read the full story on LATimes.com.