This is an archived article and the information in the article may be outdated. Please look at the time stamp on the story to see when it was last updated.
Angelenos will be enjoying free hot dogs if the Los Angeles Dodgers win the 2017 World Series.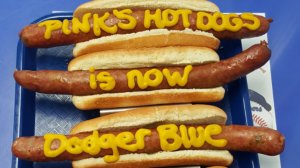 Pink's Hot Dogs, on La Brea Avenue in the Fairfax district, challenged Good Dog Houston, a Texas-based hot dog stand, to a friendly bet. The winner will give out 250 free hot dogs courtesy of the losing city's hot dog stand.
"The inspiration for this bet was 'how else can we show our support for the Dodgers?'" said Richard Pink, co-owner of Pink's Hot Dogs. "I called up the most famous of the hot dog stands in Houston and I said, 'Let's bet. I'm behind the Dodgers, you're behind the Astros; 250 hot dogs each depending on who wins.'"
Good Dog Houston accepted the challenge on Twitter, writing "We're down like 4 flats on a pickup truck!! Once the @Astros win, we'll happily take your $$ to give out free #HotDogs to #HTown!"
The L.A. Dodgers won Game 1 of the series on Tuesday with a 3-1 score. The two teams will face each other again at Dodger Stadium on Wednesday at 5 p.m.
We're down like 4 flats on a pickup truck!! Once the @Astros win, we'll happily take your $$ to give out free #HotDogs to #HTown! 🤘🌭💰 https://t.co/Knu9hjMXBE

— Good Dog Houston (@GoodDogHouston) October 23, 2017
Everyone wants free food, so what about the night after the (@Dodgers) win, winner gives hot dogs, compliments of the losing hot dog stand? https://t.co/JwDHgy0ax3

— Pink's Hot Dogs (@pinkshotdogs) October 23, 2017