This is an archived article and the information in the article may be outdated. Please look at the time stamp on the story to see when it was last updated.
Skiers and snowboarders were told to expect "amazing" conditions at Big Bear Sunday as a winter storm was predicted to continue dropping snow, rain and hail across Southern California.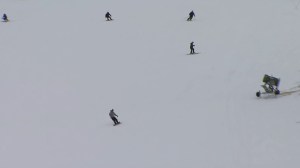 Snow totals in the mountains were likely to be "quite variable due to the showery nature of precipitation," according to the National Weather Service's winter weather advisory.
In Big Bear, about an inch of natural snow had fallen as of Sunday morning with more expected as the day progressed, said Dustin Murphy, director of communications at Big Bear.
"It's an odd storm because some people are quoting as low as 3 inches, and others are quoting as high as 2 feet," Murphy said of what was expected by the end of the day.
In any case, skiing and snowboarding was "amazing" and "some of the best of the season," he said.
On average, in the San Gabriel Mountains and higher terrain in Ventura County, about 2 to 5 inches of snow was expected to fall between 4,000 and 5,000 feet, 4 to 8 inches between 5,000 and 6,000 feet, and 8 to 12 inches on mountains above 6,500 feet, the National Weather Service predicted.
Local snow accumulations up to 18 inches was possible, the service stated.
The icy conditions prompted Caltrans and the California Highway Patrol to warn motorists of hazardous driving conditions and threaten to turn away vehicles without chains from mountain roads.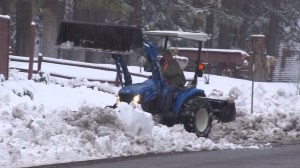 And heavy rainfall overnight Sunday led to a major mudslide shut down part of the Pacific Coast Highway in Ventura County, emergency services for Malibu stated in a news release.
The closure happened two days after a nearby 9-mile stretch of the PCH was reopened after a three-month closure also prompted by rock slides and mudflows near the Springs Fire burn area.
The overnight rain also led to a flash-flood warning in Camarillo and the Springs Fire burn area, and Glendora city officials raising the city's alert level to "yellow" in the Colby Fire burn area.
The winter weather advisory warned of more heavy rainfall and a "slight chance" of thunderstorms and hail in Los Angeles and Ventura counties into Monday when the advisory was set to expire at 6 p.m.