This is an archived article and the information in the article may be outdated. Please look at the time stamp on the story to see when it was last updated.
With a major portion of the 101 Freeway shut down by mudslides until at least Monday, two boating companies are taking hundreds of passengers a day on boat trips up to Santa Barbara.
A devastating onslaught of mudslides that hit Montecito especially hard, killing over a dozen people, has left a major portion of the 101 Freeway between Ventura and Santa Barbara closed and covered in mud. That means driving between the two counties could take hours — so some are traveling by boat instead.
Island Packers in Ventura and Truth Aquatics in Santa Barbara are offering a ferry service, carrying around 400 people a day through an average of four daily trips with about 100 people on each, said Island Packers owner Cherryl Connaly.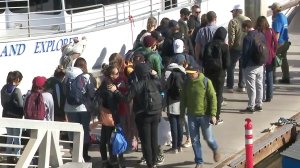 Five hundred people had already made the trip throughout the morning Wednesday, Connaly said. With a rising demand, the company plans to add more shuttles to its service, she said.
"We just want to help," Connaly said. "It's just terrible what's going on."
"Some people are in desperate need to get to their loved ones, to work," she said, adding that the service will stop once the freeways are reopened.
One Goleta woman, who was trying to get down to Ventura to attend a family party for her grandfather's 100th birthday, said she decided to travel by boat since freeway closures meant driving would take hours.
"The vista was down, freeways are still closed," said Nannette Clark. "So the only way to get down here today was to take the [ferry]."
A group of students from Westmont College in Montecito — where hundreds were being rescued from mudslides that destroyed at least 100 homes — were escorted by the National Guard from their homes and taken to a ferry service in Santa Barbara, the women told KTLA.
"In the middle of the night, they told us that in the morning we would be escorted by the National Guard and water at the college had been contaminated," said one of the students named Sam.
They took the boat trip down to Ventura, where they met up with the mother of one of the young women. At least two of them are students from out of state who struggled to find shelter during evacuations from the storm and mudslides.
"I'm out of state, so trying to find a place to stay — it was really crazy," said Grace, one of the students. "I'm really thankful to be here and to be safe."