This is an archived article and the information in the article may be outdated. Please look at the time stamp on the story to see when it was last updated.
After a hit-and-run collision that killed a 24-year-old man, an alleged drunken driver was chased down by a witness who detained the motorist until police could arrive Tuesday.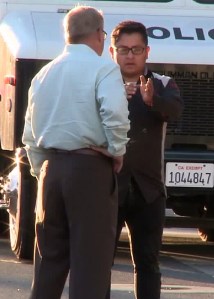 The crash occurred in the 800 block of East McFadden Avenue, according to a brief news release from Santa Ana Police Department.
The victim, who lived at a nearby assisted living facility, was sitting on the curb when he was struck about 1:20 p.m., police Cpl. Anthony Bertagna said.
The witness, Cesar Guzman, was driving behind a minivan when he saw the vehicle swerve up onto the curb and then heard a loud bang.
"I saw something rolling over under the car and when it came out it was … a person," Guzman told KTLA.
Guzman said he got angry when the minivan didn't stop. Since there was another person who ran to help the victim, Guzman said he decided to follow the driver.
About a half-mile down the road, Guzman managed to get the driver to pull over and turn over his keys, Bertagna said.
Guzman also made sure the driver didn't leave until police arrived.
The 55-year-old driver, identified as Ramon Horta-Jaime,  was taken into custody and booked on suspicion of hit-and-run, felony DUI and vehicular manslaughter, according to Bertagna.
Horta-Jaime was driving on a suspended license because of a previous DUI, the corporal said.
More video: