This is an archived article and the information in the article may be outdated. Please look at the time stamp on the story to see when it was last updated.
The FedEx truck involved in the deadly collision on the 5 Freeway in Orland on Thursday was already on fire before it crossed the center median and collided head on with a tour bus carrying students from Southern California, according to the driver of a car involved in crash.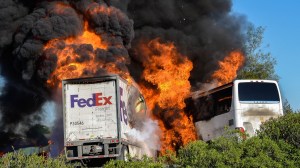 The FedEx truck was heading southbound when it crossed a 60-foot grassy median and collided with the bus, which was in the northbound lanes, National Transportation Board Member Mark Rosekind said.
The big rig swiped a third vehicle, a Nissan Altima, before hitting the bus, authorities said.
The driver of the Altima, Bonnie Duran, spoke with KTLA by phone on Friday.
"I saw this FedEx truck coming through the median and it is in flames and heading straight for me," Duran said.
The flames seemed to coming out of both sides of the truck from behind the cab, she said.
Duran swerved to try to avoid the truck, which struck the back of her car, knocking her into a ditch.
She said moments later she and her husband, Joe, heard a series of explosions behind them as the truck slammed into the bus.
Both vehicles exploded in flames, sending plumes of thick black smoke high into the air.
Duran and her husband were shaken up, but were not seriously injured.
Five students were killed in the collision, as were the three chaperones and the drivers of the bus and the big rig, according to the California Highway Patrol.
Investigators from the National Transportation Safety Board arrived at the scene Friday and were working to determine the cause of the crash, but they said it could take months to arrive at findings.
They urged witnesses to come forward with any information that might help investigators by emailing witness@ntsb.gov.